Earth
is the starting place in the game. It is also the main battlefield for the two factions
Decepticons
and
Autobots
to fight upon. In the
Tralier
and Concept art Earth is seen in ruins and destruction, probably because of the war between the Autobots and Decepticons has Ravaged Earth. It could also be because of
Terrorcons
a new threat in the game, or of a possible bigger
unknown enemy. Furthermore Terracons are seen in some of the pictures as zombie like creatures who appear from the destruction.
Locations
Edit
Here are the locations that are fightable Locations on Earth: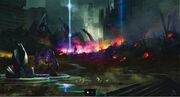 Ad blocker interference detected!
Wikia is a free-to-use site that makes money from advertising. We have a modified experience for viewers using ad blockers

Wikia is not accessible if you've made further modifications. Remove the custom ad blocker rule(s) and the page will load as expected.