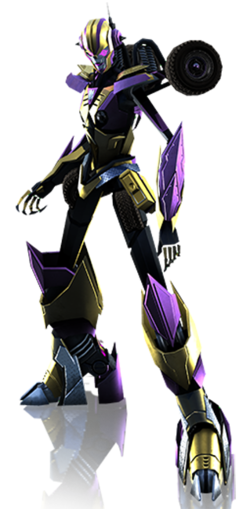 Description
Edit
Corrupted from the inside out, Duststorm simmers with a quiet, consuming rage.
Few bots' loadouts pack as powerful as Duststorm's. Optimized for devastating damage dealing at long or close range, the downside is that her defenses are weak. This is why she can also knock enemies down or stun them, granting her time enough to escape.
Vehicle formEdit
To maintain her secrecy, Duststorm selected a vehicle mode that would kick the dirt high and keep her concealed. With onboard, long-range plasma rockets, few will be able identify their attacker.
With an arsenal optimized to keep even the most ironclad pretador at bay, this Decepticon will fly servos with her electrifying pistols or pop hoods from distance with deadeye precision. The tainted glint in her augmented ocular prosthesis is the only thing her victims ever see of this ghost-faced guerrilla.
Quote from other botsEdit
"Ruthlessly efficient, Duststorm is a Decepticon warrior close to my dark spark." - Megatron
DROMA BLASTER RIFLE [ ELECTRO-BLAST LAUNCHER ]
A long-range weapon which deals electrical damage to spark and shield. It exhausts its power in a single activation, then requires a short cooldown. The Electro Nova S-tech leaves a damaging ball of electricity at the target's position. After a short delay it explodes, damaging all nearby enemies.
PRAXA PISTOLS [ ELECTRO-STUN PISTOLS ]
A short-range ammo weapon which deals electrical damage to spark and shield. It auto-reloads when ammo is depleted. 
The Dyna Pelter S-tech electrocutes the target's systems and articulators,
stunning them.
STYGIAN SNIPER RIFLE [ SHIELD VAPORIZER ]
An extremely-long-range weapon which deals plasma damage to shield. It exhausts its power in a single activation, then requires a short cooldown. 
The Mesh Smasher S-tech inflicts heavy damage on the target's shields. If their shields fail, the attack ensures that the energy dispersal burns their nearby allies with plasma.
Equipment
Edit
Projectile AcceleratorEdit
Increases the acceleration and velocity of projectiles fired from all of Duststorm's weapons, increasing their damage-dealing at close range.
Ammunition BridgeEdit
Connects Duststorm's morale circuits to the pistol and blaster rifle reloading systems, speeding up ammunition replacement.
Shockwave RoundsEdit
Forges sniper rifle ammunition with increased shock force - the next sniper shot has a chance to knock the enemy down.
Subsystem
Edit
Lifeforce Capture - When Duststorm takes an enemy offline, their life energies are rerouted into her systems to administer repairs.
Vehicle Form
Edit
Ad blocker interference detected!
Wikia is a free-to-use site that makes money from advertising. We have a modified experience for viewers using ad blockers

Wikia is not accessible if you've made further modifications. Remove the custom ad blocker rule(s) and the page will load as expected.