Delay in the Production of the game Transformers Universe has caused a lot of debate lately a Jagex Mod has stated "Quality game development takes time. We'd rather delay release and focus on bringing out an awesome game than launch as fast as possible with something rushed."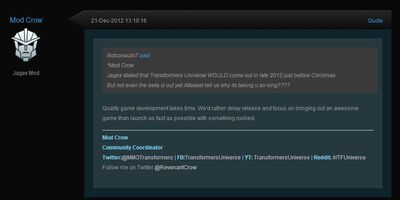 Ad blocker interference detected!
Wikia is a free-to-use site that makes money from advertising. We have a modified experience for viewers using ad blockers

Wikia is not accessible if you've made further modifications. Remove the custom ad blocker rule(s) and the page will load as expected.